Bridesmaid Gifts on a Budget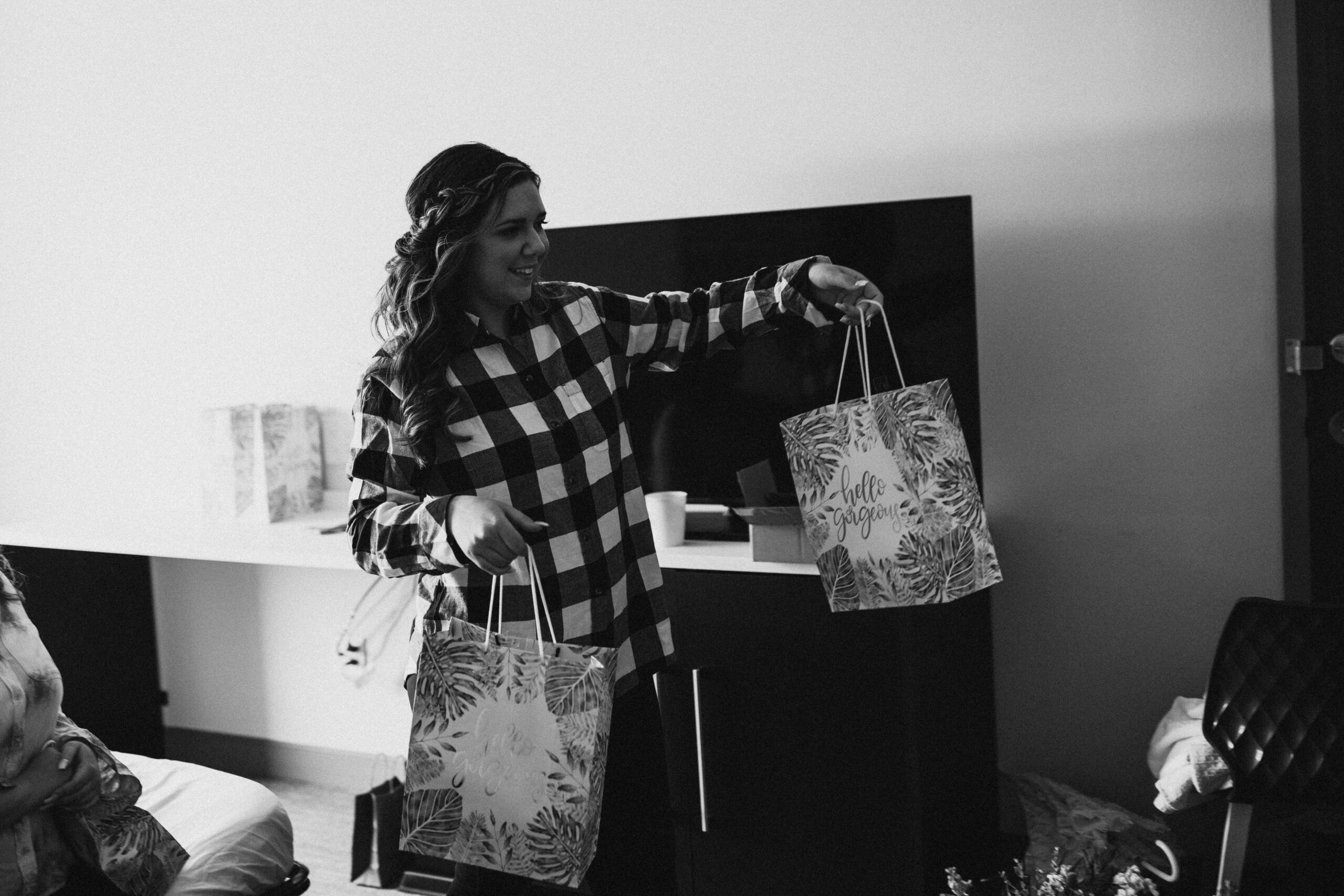 Happy Tuesday y'all! We wrote this blog to help with ideas for bridesmaid/groomsmen gifts on a budget. We know weddings can cost a fortune, but the good news is your bridal party gifts don't have to!
One of the convenient things about our wedding being in March was that we just happened to be shopping for our bridal party gifts around the time of the year with the most sales. We had a fairly large bridal party so we were concerned about how we can show our party that we loved and appreciated them while still sticking to our budget. Around November/December we began our search, so we were able to take advantage of Black Friday and Christmas sales.
Bridesmaid Gifts
For the bridesmaid gifts, I put together gift bags of assorted items that I knew my girls needed/wanted. I asked that all the girls purchase the same shawl in the same color to wear over their dresses because it was going to be somewhat chilly at our wedding and I still wanted them to match. I felt bad asking them to buy yet another thing when I knew they had already put so much money into our wedding, so instead I found an option on Etsy where I could buy shawls in bulk and I included them as part of their bridesmaid gifts. This saved money for both them and us, and I knew they'd love to wear them any time of year, not just for the wedding.
I also took advantage of Bath and Body Works' semi-annual sale right around Christmas time. The sale was buy 2 items get one free, so I purchased candles and hand soaps, all buy 2 get 1 free and gave each girl a candle and soap. Who doesn't love Bath and Body Works' good smelling stuff? I also wanted to get the girls something fun that we could all wear together while getting ready the morning of the wedding. On one of my semi-frequent trips to Target (any Target lovers reading this?) I just happened to find cute, pink fuzzy socks in the dollar section. I put all of these items in gift bags with hand-written notes to thank them for standing with me on my big day!
Groomsmen Gifts
For the groomsmen gifts we had been struggling a bit with the gifts. We had several options of what we wanted, but all were fairly expensive. A few days after Christmas we just happened to be at the mall and were strolling through Dillard's. They had all their Christmas items on clearance, and we came across the perfect gifts for our guys. The were gift boxes filled with drink-related items (steel ice cubes, bottle opener, matching socks) that we knew the guys would love, and we got lucky that there were just the right number of gift boxes that we needed. With the post-Christmas sale, we were able to get these gift boxes for less than $15 each!
We didn't want to go cheap on our bridal party, because they are our best friends, closest family members, and they went above and beyond for us. We're thankful that we were able to find discounts on quality items to show how much we appreciated them. Our recommendation is to plan ahead for your wedding, scope out any sales you see throughout the year. It's okay to buy early even if you don't know the number of people in your party. Buy a few extra because you can always use the extra items for gifts later on!
***Cover image was taken at our wedding by our photographer Eugene Svirhun***

www.dacekphotography.com/blog
Link to the Pashmina Shawls: https://www.etsy.com/listing/246915128/1-pashmina-handmade-any-color-pashminas?ref=user_profile&pro=1
***Cover image was taken at our wedding by our photographer Eugene Svirhun***